This is a three-day series of articles on foster care from the Toronto Sun
April 2, 2006
Suffer The Children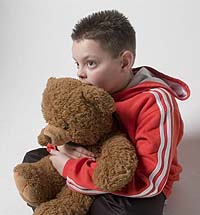 They are the children of the welfare system, many of whom grow up loveless, their childhood innocence slowly gnarled by loneliness. The things they covet the most are the tender strokes of a mother's touch, family gatherings and someone to tell them they're not dispensable.
By VIVIAN SONG
They're the forgotten children. They're forsaken by the public and the media until headline stories like Jeffrey Baldwin -- who at 5 years old died weighing only 21 pounds -- and Paul Blackwell, a foster parent who admitted to sexually abusing two foster children, spark a firestorm of outrage and incense parents with little ones.
"I spent five years without being hugged," says Emily, 18, in a heartbreaking documentary Wards of the Crown.
"There was nothing anyone could do," she says, her blue eyes wide and serious, her expression stoic. "Just sit in your closet, bang your head and maybe someone will hear that you're scared."
There's also Leaha, 16, who opens the film, sitting in a women's shelter on Christmas Eve. The one thing she wants more than anything for the holidays is her mom.
"Most of all, I'd love to have my mom under the Christmas tree with a big bow tie on her," she says in a strong, husky voice that belies a fragile vulnerability.
Filmmaker Andree Cazabon followed the teens in care for 10 months, pulling the veil off a topic silenced by indifference.
"The ultimate question is, do we want to have children grow up in the child-care system? Is the Children's Aid Society an adequate parent?" Cazabon asks.
"Hopefully, this will be a turning point in Canadian history with the Baldwin case. It's important for Canadians to stop and refuel and say, 'What does this name have to do with me?' "
On April 6, when a judge hands down his verdict to Baldwin's grandparents who stand accused of starving their grandson to death, society will undergo its big test.
---
Deputy Chief Coroner Dr. Jim Cairns presides over the deaths of about 70 children a year involved with the CAS. He can rhyme off names of dead children he's had to investigate and the year they died: Shanay Johnson, 1993, Kasandra Hislop, 1991, Devon Jamie-Lee Burns, 1996.
"It's frightening," he says of this ability. "The ones that leave a lasting impression on you, a large percentage of them will be child deaths."
The mandate of the downtown coroner's office on Grenville St. is emblazoned on the wall in the reception area: "We speak for the dead to protect the living."
Cairns' office is sparsely decorated, with the exception of a few pictures: A watercolour of Noah's Ark painted by a child, a poster of Lance Armstrong, and a court sketch of Cairns and Renee Heikamp, a mother who was charged with criminal negligence for starving her baby, Jordan, to death. Jordan was found in a women's shelter at five weeks old weighing less than 4 pounds.
In 1997, Cairns -- part of a child mortality task force -- released a preliminary report based on a series of coroner's inquests that investigated the alarming number of children's deaths in the child welfare system. About 100 children died between 1994 and 1995, prompting inquest calls for a "children-first" approach, as well as a standardized case management and risk assessment system.
Putting children first became the priority, he says: "Before that legislation, there was an overemphasis on keeping families together at all costs."
The province also passed legislation that would fine doctors, teachers and even neighbours who fail to report a child if they suspect the child is being abused. Reporting went up by 50%.
But what happens once these children are taken away from their families and placed into the child welfare system?
Between April 1, 2004, and March 31, 2005, the 53 Children's Aid Societies in Ontario provided substitute care to 30,423 children.
They responded to 44,375 inquiries under investigation and protection services and completed 82,137 investigations, including dozens of child deaths and hundreds of allegations of abuse and mistreatment.
In documents obtained from the ministry of children and youth services under the Freedom of Information Act, the CAS of Toronto -- which works with 33,351 children -- reported the deaths of 12 clients and received 176 allegations of abuse in 2004.
One boy died of strangulation after he was found hanging in his closet. Another died when he fell from his balcony, and a girl died from a skull fracture and brain injury. Her mother faces charges.
Meanwhile, the number of cases alleging abuse increased from 147 in 2003 to 176 in 2004. Of these, 68 were allegations of mistreatment, including inappropriate discipline of children by foster parents or residential staff.
But perhaps more than any other CAS, the Catholic CAS made the most repeat appearances in the media.
In addition to the Baldwin case, the agency is feeling the heat for placing children in the care of Paul Blackwell, a foster parent who last month admitted to sexually abusing two Crown wards.
Between 2000 and 2004, the number of serious occurrences reported within the CCAS almost doubled, from 220 to 406. The agency serves 18,588 children.
In 2004, the CCAS reported the deaths of nine clients while under their care and 39 allegations of abuse.
A few of the deaths were anticipated because of existing medical conditions but one instance was a mother-and-son murder suicide.
For Cairns, who boasts a prolific career with 31 years of experience working with the dead, the unidentified children who make up these statistics in the report all have faces and names.
"All of us are hardened, and you have to be, but when (a child dies), that's when the shell of armour breaks down."
April 2, 2006
After years of darkness, a light shines
By VIVIAN SONG
Patrick speaks about his darkest days with a candour that's disarmingly forthright.
The blond, blue-eyed 20-year-old from Scarborough is exceedingly polite and well-mannered. But when he lowers his gaze, intense looks of concentration betray traces of his former, latent temper -- a violent temper he describes openly and freely.
His father never slept, Patrick says.
"He was scared I'd slice his throat open," Patrick says. "I never saw him sleep."
Patrick's explosive temper and simmering anger are deeply rooted in a troubled and lonely childhood.
The Catholic Children's Aid Society took Patrick away from his drug-addicted and alcoholic mother when he was three and placed him with a childless couple who adopted him, a half-brother and another girl, raising them with a heavy hand.
During a messy divorce period, his distressed mother took a frying pan and tried to hit her then 10-year-old adopted son on the head.
COLD AND ABUSIVE
Instead she broke his middle finger when he tried to protect his head with his hands. A restraining order was brought against the mother and CCAS placed him into the custody of his adopted father, who was equally cold and abusive.
"We were never close. He said he would never hit me but he did. I knew I was going to get kicked out."
For Patrick, who after a tumultuous childhood is now on his feet, the one question he poses to the agency is: Where were they?
"My belief was that a worker was supposed to come by and check up on me to see how I was doing. They never did. They just left and didn't bother to see if I was all right."
In order to expedite the inevitable, Patrick took the blame when his little brother burned down the kitchen. What followed was a violent fallout: Dad pushed his head in the wall, son hit him back.
"It was a struggle in dominance. Either I had to go or he would have kicked me out," Patrick says.
Between 14 and 17, the troubled teen was shuffled between group homes when he wasn't homeless.
"I practically brought myself up since I was 14. I know how to take care of myself," he says.
He readily admits he had a tremendous rage problem. When he was 13, he says he "almost killed a kid" with a protractor because the boy was picking on his brother.
'NO ONE WANTED ME'
"I would ball things up and then snap," he says. "Everything goes black around me for about five to 10 minutes and then I act out ... I was concerned no one wanted me anymore."
But what he didn't know -- until three years ago -- was that he was born with fetal alcohol syndrome, a condition with spinoff effects including behavioural dysfunction and developmental delay.
He says he reads at a Grade 3 level, and his comprehension is at a Grade 1 level, but he's pleasantly articulate.
Recently he was diagnosed as bipolar, schizophrenic, and clinically depressed.
"I knew I had something wrong with me. It was hard to be around people. I was withdrawn and I wanted to be secluded."
But medication has helped the young man "mellow out."
He now volunteers at the East Scarborough Storefronts, a resource centre for teens at Morningside Mall, and keeps a circle of reliable friends.
Living in a group home gave him the skills to do chores and live independently. He now lives in a basement apartment in a Scarborough neighbourhood.
At the last Christmas party hosted by the CCAS, Patrick ate with 80 other kids and sat down to his first holiday dinner in 10 years.
He offered to play Santa for 80 kids at the party and laughed easily among his peers.
LONG, LONELY ROAD
It's been a long, lonely road for the young man, whose story is not unlike other youth in the child welfare system.
When asked if he ever feels loved, Patrick looks out the window onto a murky sky.
"Somewhat," he says. "But I envy people who have parents."
April 3, 2006
Wards move every 22 months
Aim of Ontario's new child-care legislation is to bring permanency for children in care
By VIVIAN SONG
Young people in foster and group homes move on average every 22 months, according to the ministry of children and youth services.
There are about 9,000 permanent Crown wards in Ontario, but only 10% of them are adopted each year.
Last Monday the province passed new child protection legislation in Bill 210, for children like the youth in the documentary Wards of the Crown, who spent loveless childhoods being shuffled from home to home.
Minister Mary Anne Chambers said the new bill places priority in creating greater permanence for kids in care.
"If kids are changing homes on average every 22 months, that means new schools, getting accustomed to new neighbourhoods and friends. It's not the kind of stable environment that support strong growth in kids," Chambers said.
There are no caps on the number of times a foster child can be uprooted and moved to another foster home, says Jeanette Lewis, executive director of the Ontario Association of Children's Aid Societies, in part because there's a shortage of foster homes.
As of March of last year, the OACAS counted 8,004 foster homes and 1,460 adoption homes in the province.
"Overall, the whole question of taking care of another person's child has changed and the reality is more difficult," Lewis said.
As they grow older, existing foster parents stop fostering and retire the children back into the system. Increasingly multicultural communities also present unique challenges to an already overburdened child welfare system.
"There's a tremendous emphasis on the recruitment of foster parents from different cultures. But it's tough because in some cultures there is no word for foster care in their language. It's quite a challenge," Lewis said.
Claudette Maheux, manager of child and youth care services of the Ottawa CAS said the whole premise of foster care needs to be redefined.
"We need to do away with the term 'long-term foster care,'" she says in the film. "Foster homes should be for purposes of temporary care of children until we can find them permanence. It should not be the permanent plan."
April 3, 2006
A document to heartbreak
Filmmaker follows the lives of 5 children of the state for 10 months
By VIVIAN SONG, TORONTO SUN
Emily, Chantal, and Andrew are able to quantify their loneliness.
Emily, 20, spent five years without being hugged.
In two years, she made 130 visits to a children's hospital near Ottawa for self-mutilation or "cutting" and was placed in 28 different homes within four years.
Before Chantal was 6 years old, she had already been shuffled between eight foster homes.
Andrew has moved homes 19 times in his 19 years. In one year alone he moved eight times. To keep track of his movements, his life is kept in thick blue binders full of official documents from the Children's Aid Society.
These are some of the youth profiled in a heartbreaking documentary Wards of the Crown, screened last month at the National Film Board of Canada.
Filmmaker Andree Cazabon, 32, followed five youths in care from the Ottawa area over 10 months, capturing their umpteenth move, their battles with drug use and frank, tearful confessions of loneliness.
For Emily, it's the small gestures of love she craves.
She and Cazabon are sitting in the closet of her old group home where Emily used to sit for hours thinking alone. Emily's mother left her at a Children's Aid Society when she was 13.
'THAT LITTLE TOUCH'
"Sometimes, when you're falling asleep, your parents would play with your hair," she says wistfully, stroking her long blond braids, her fair, freckled face filling the screen. "They'd rub your back, kiss you on the cheek goodnight. It feels so good. That fills you full of love, that little touch."
This is one of the most powerful scenes in the film for Cazabon because of its intimacy and its revelations.
"There's always a reason a person is cutting herself," she shares in an interview.
"Watching that footage was hard because it was so traumatic."
Cazabon declines to talk about the particulars of Emily's confession. The scene was cut out of the film -- "it was that bad" -- but it was a necessary part of the filmmaking process, Cazabon says.
After spending a brief time in the child welfare system for drug abuse herself, Cazabon embarked on a crusade that questions the idea of children growing up in institutionalized care.
'WHERE IS HOME?'
"What does it really mean to be a child of the state? Does it mean the Queen is your mother? That the taxpayers are your parents? And if the government is your parent, where is home?" Cazabon asks at the beginning of the 45-minute film.
For Chantal, 22, the notion of home became painfully blurred when her foster parents of four years decided one day they no longer wanted her. She was 10 years old.
"I know that they had their problems but I thought it was my fault as usual ... You're very young and you think finally you have a family. It's just -- " she breaks off, lost in thought. "I loved them very much and it hurt me. It was at that time that I thought I was not lovable."
She wears the scars of loneliness in her gaze: Sad, stoic, aloof.
Chantal, a soft-spoken, pixie brunette, is sitting in an armchair in a dimly lit room, where a small mountain of teddy bears resides in the corner.
"(Children's Aid) didn't realize that I was a person. I felt like a little dog, tossed from place to place."
On second thought, Chantal becomes piqued at her comparison and withdraws her statement with a huff.
"But even a dog wouldn't be put in so many houses," she says with a sardonic chuckle.
For Leaha, another youth in care, living in the child welfare system is so unbearable she signs herself out at her first opportunity. In Ontario, youth can sign themselves out of the system at 16, but once they leave, can't go back.
After living on the streets and working in a juvenile prostitution ring, Leaha searched out the mother who abandoned her. Her mother is a drug addict and physically abusive and Leaha's fierce attachment to her mother is heartwrenching.
When Leaha's dad started beating and molesting her, the one person who was supposed to protect her left.
"I took the beatings for my mom," she says in her strong, husky voice, a veneer for her vulnerability.
"Everything I'm going through and everything I'm feeling now is because of her. I took that pain away from her," she says, her voice breaking, tears welling up in her heavily lined eyes. "I took that pain so she wouldn't have to go through it anymore because I thought she would be the one to save me. But she didn't."
ON THE STREET
Throughout filmmaking, Cazabon loses track of Leaha a few times. When she finds her, viewers meet a dramatically altered girl: Gone are the dyed black curls and the extra baby weight. Drug use has made her thin and her hair is back to her natural blond colour.
She and her mother have had a violent falling out, forcing Leaha back on the streets. They reunite on the promise they wouldn't fight again.
"I went back home and since then she hasn't done it once. I'm pretty proud of her," she says in a strikingly motherly tone.
At 16, kids can be refused housing for behavioural issues. For one month, Andrew is placed in a homeless shelter. Emily sleeps under a bridge. When Andrew has exhausted all his options, he moves in with a 40-year-old man. The offer comes with conditions attached.
For Cazabon, a product of the child welfare system and now a mother of a little girl, the answer to institutionalized care is both a simple and profound one.
"By bringing a child into government care, we as a society take the role of parent. But the role of being a parent is more than keeping children safe and housed. Relationships, not services, must be a priority," she says at the end of the film.
Otherwise, society must accept part of the blame for releasing rootless youth like Chantal from the system.
"The biggest question I ask myself everyday is: Will I ever be able to love someone?" she says. "To say that I am proud of what I am without feeling shame or such sadness? Just being able to love myself and love someone else in a healthy way. That's my biggest question."
---
TOMORROW: FORMER WARD FIGHTS FOR FOSTER KIDS' RIGHTS
April 3, 2006
Should foster care be licensed?
By VIVIAN SONG
Like licensed daycare, foster care should also be professionalized, says a professor of child and family studies and a foster parent.
"When our own children go to daycare, we as parents insist that the daycare is licensed and insist that the provider has some educational background like early childhood education," said Thomas Waldock, a professor at Nipissing University and a published child-advocate author.
"We demand more of those systems, but when it comes to foster care, because we're talking about marginalized kids from marginalized populations, we place ads in papers requesting foster parents to join the system."
On average, the base rate foster parents receive is about $26.71 a day, not including incidental fees like soccer, music lessons or special needs costs.
$350 A DAY
Costs of keeping a child in a group home - which eats the biggest chunk of the system's budget - can get as high as $350 a day.
By investing resources and money into foster parents with educational backgrounds in social work and early childhood education, children would be looked after with the same kind of standard parents exact of the daycare providers who only look after their children eight hours a day, Waldock said.
"What tends to happen is that people and the press focus on the fact that kids are left in (horrible) situations ... but where the children get placed after they're removed tends to get lost ... There's very little focus on the quality of system children go into," Waldock said.
For Jeanette Lewis, executive director of OACAS, the licensing notion is at once idyllic and impractical.
"There's something to be said for that," she said. "But at the same time, you can't professionalize love, attachment, respect and caring. That's the dilemma."
April 4, 2006
Long road to recovery
One man battles to overcome a childhood full of abuse and loneliness
By VIVIAN SONG, TORONTO SUN
All John Dunn remembers is the feeling of cold metal against his bare penis.
As punishment for being a 6-year-old bed wetter, his foster father stood in front of him, held pliers to his penis and threatened to clamp it down.
When he accidentally flooded the toilet after a large bowel movement, as punishment, his foster father grabbed his little head, pushed it down into the bowl, and flushed the toilet.
"I thought I was going to die," Dunn, 35, says from his Ottawa home.
Dunn was 3 when he and his two older sisters and older brother were placed in the child welfare system. Their mother suffered from depression and alcoholism and had attempted suicide.
The former Crown ward speaks openly and earnestly about his experiences as a byproduct of the system himself, but also as the founder of afterfostercare.ca, a website he created for children living in foster care.
The comprehensive site is a one-man show for now, born out of a crisis in his adult life.
But the child advocate has lofty ambitions for his work-in-progress, Foster Care Council of Canada, hoping to empower children in the system with their legal rights and perhaps spare some of them the pain he endured.
Like thousands of youth in care before him, Dunn, now 31, grew up against the odds of a loveless and lonely childhood.
AN INNER RESILIENCE
Happy memories are scarce but inextricably linked to prolonged periods of stability in a caring home, be it months or a few years.
Like thousands of children before him, Dunn survived by summoning a resilience and courage unique to lost, marginalized children.
But eventually, as he would come to discover in his adult life, the towering buildup of anger and abuse most often ends in a fantastic crash that can threaten to crush its victim.
In 2001, Dunn went to the Toronto Catholic Children's Aid Society to retrieve his personal files and retrace his life steps as a child. When the agency refused to hand them over, saying he could only see them on site, he succumbed to a nervous breakdown.
"I thought I was going crazy," he says. "Normally I'm a happy-go-lucky guy but I spent a month crying. It just made me snap ... It set me off because that's how I was always treated by the CAS."
Dunn equates the importance of his files to the importance of a family photo album -- the only tangible record that connects him to his past.
"That's like saying I had to schedule my reminiscing time," he says. "Seeing files -- handwritten files -- are proof you existed. You can hold it in your hands and say, look you existed."
INVISIBLE CHILDREN
The notion of confirming one's existence is a common motif among children of the welfare system, many of whom grow up feeling invisible, full of self-doubt.
In a stirring documentary, Wards of the Crown, released last month by the National Film Board of Canada, Emily, now 20, echoes Dunn's sentiment, when she describes life on the streets and the rush it can provide for a lost, fading girl.
"Men care," she says matter of factly. "And that's okay, even if it's in a bad way. It makes you feel alive. Your heart actually beats whether it's beating so fast because it's dangerous or because you think they do care."
To draw attention to his plight, Dunn embarked on a little-noticed protest walk in 2001 from Toronto to Charlottetown, which took a month to complete. During that time, he created a documentary about his life in foster care, which aired on a CBC radio program four years ago.
Before his journey, he set up a website that would eventually morph into a resource for other children of the welfare system.
Because he was uprooted so many times in his childhood and lost countless friends along the way, Dunn developed a habit of detaching himself from potential relationships, attaching himself instead to geographic sites.
"I miss locations more than people: Parks, highways. I never missed people and I still have that pattern today."
The pattern of instability is another trap for children of the welfare system. In his adult life, Dunn worked hundreds of "joe jobs" and moved countless times, including to the streets of Toronto.
"The effects of instability were I never learned to stick with anything," Dunn says.
"Nothing's stable. I had problems working because when people treat you the way you were treated in group homes, you weren't able to handle authority. Today I can handle authority but it took one year of therapy and lots of time."
13 HOMES IN 15 YEARS
Dunn was placed in 13 different homes between the ages of 3 and 18. He and his older brother were nearly adopted from the foster father who abused them in Trout Creek.
According to the Ontario Association of Children's Aid Societies, there is no standardized system of screening potential parents, nor are the eight to 12 training sessions standardized among the province's 53 CASs.
More than Dunn, it was his older brother who bore the brunt of abuse from their foster father.
When he played with fire as a child, their foster father burned his hands with matches and would drag him down the stairs by his hair.
Finally, when Dunn was 9 years old, he and his older brother decided to run away.
"My brother said, 'That's it,'" Dunn remembers. "(My foster dad) was sleeping so we snuck in the house to get our allowance money from the jars and snuck out."
The two little boys walked along Hwy. 11 all afternoon and into the evening.
But at about 9 p.m., a family member found the pair and drove them back home.
For the next nine years, Dunn and his brother would move through other abusive foster and group homes.
The only time Dunn brightens when speaking of his childhood is when he speaks about the time he spent with his biological mother. She had been sober for six years and was allowed to be reunited with her children for visitations.
"I remember sitting in the main lobby of the Toronto Catholic CAS, and beside me was a lady. She knew (who I was) and flew over to me and gave me a big hug. It was pretty wild," he says. "It was a good moment for me, the first time I felt any good care."
MOTHER'S SUICIDE
She committed suicide in 1998.
"I loved her like crazy," he says. "The only time I felt loved was when I was with her."
A chance meeting with his older brother in Toronto years later would confirm the scars of abuse are too overpowering for some to recover from.
"He's in too far," Dunn says of his brother's drug and alcohol problem. "I was too young to (understand) but he was old enough to be affected and missed mom. He was devastated."
For Dunn, defeat isn't an option. He's now studying at Algonquin College to be a law clerk, with the ultimate dream of becoming a lawyer. He wants to learn how to use the law and know his rights.
"If I can't beat them, might as well be them," he says. "I see a future now whereas I didn't see one before."
John Dunn replied to the Sun:
Wednesday April 05, 2006
Vivian Song
Toronto Sun
vivian.song@tor.sunpub.com
Dear Vivian Song,
As per my voice mail on Wednesday, April 05th 2006, I would like to request a retraction to be published with regard to the last line in Tuesday's article. I know it is just a mistake but it has quite a negative effect on my work and my reputation in the community. I am simply asking for a retraction of that last line, for the following reason.
The last line is currently written as "If I can't beat them, might as well be them". I did not say this and what I did say was that what I am doing is sort of like the old saying of "if you can't beat them, you might as well join them in that I am becoming a law clerk in order to assist me with understanding the system and how it works in order to improve my advocacy skills."
If you could please retract that last line, and replace it with what I said on the phone with you as follows.
"This course will assist me with understanding the system and how it works in order to iimprove my advocacy skills".
I am willing to discuss this matter with you, at your convenience.
Sincerely,
John Dunn
Executive Director
The Foster Care Council of Canada
CC: Toronto Sun Editor — editor@tor.sunpub.com
April 4, 2006
They need a better chance
By VIVIAN SONG
It's a commonly held truth around the world: Youth in care are more likely to quit school, experience homelessness and be at higher risk of substance abuse problems compared to their peers.
That's according to a briefing paper released by the Laidlaw Foundation last fall, "Youth Leaving Care -- How do They Fare?"
The report -- prepared for the Modernizing Income Security for Working Age Adults (MISWAA) project and presented to the business community -- reviewed international research examining the outcomes of youth after they "age out" of the child welfare system and found a pattern of disturbing trends.
Youth leaving care tend to become dependent on social assistance, be unemployed or are involved with the criminal justice system, and have mental health problems.
Once Crown wards reach the age of 18, they are released from state guardianship in Ontario but have the option of extended care and maintenance until they are 21.
To expect youth scarred by physical and emotional trauma to make a smooth transition and live independently at 18 or 21 is harsh and unrealistic, says report research director John Stapleton.
"When we say to people later on in life, why don't you get a job, become self-sufficient, we're assuming these people had all the right tools to do that," Stapleton said. "It's a complex problem."
The report makes the following recommendations to the Ontario government:
Extend the maximum age at which youth can continue receiving ECM allowance from 21 to 24.
Increase the maximum ECM allowance -- which hasn't been increased for over a decade -- from $663 to $750 a month, which would cost $1.5 million annually.
Increase the maximum age for protective services from 16 to 18 years.
Develop standards to prepare youth for leaving care and incorporate these are a regulatory requirement.
April 4, 2006
Changes in protection for kids praised
Advocate wants to see it in action
By VIVIAN SONG
John Dunn applauded the province's recent move toward making the child protection system more transparent but stopped short of giving Bill 210 his stamp of approval.
"All I can say is we'll be monitoring it," Dunn said.
The amendments to the Child and Family Services Act received royal assent a week ago today.
Some of the changes include:
A stronger, timelier complaints process.
More open adoption arrangements, allowing more children to be adopted while keeping ties to their birth family.
A new policy whereby workers assess whether the situation in a household is only temporary, avoiding the unnecessary displacement of a child.
Putting more emphasis on placements with extended family like grandparents.
When asked whether another recent regulation made Feb. 6 mandating all CASs in Ontario to perform record checks of kinship care was a result of the Jeffrey Baldwin case, the minister for children and youth services declined to comment.
"I cannot comment on cases before the court," said Mary Anne Chambers.
A judge is to deliver his verdict on the starvation death of the 5-year-old boy on Friday. Baldwin's grandparents are charged with the first-degree murder of their grandson.
Dunn was particularly pleased by the new complaints process.
"I'm glad to see more openness," he said. "But we'll be watching."